Fall Activities In Bar Harbor Maine
September 28, 2017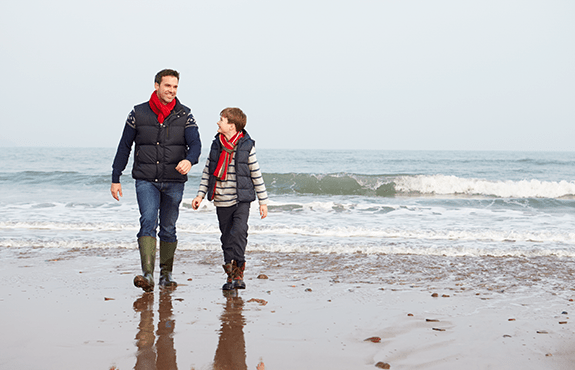 Summer in Bar Harbor is by far the busiest time of the year, but I love Maine the most in the fall. I love the sight of lobster boats and sailing vessels in the harbor on a cool crisp morning, the leaves on the trees changing to the most beautiful colors I have ever seen and the refreshing smell of the crisp salt air. There is no other place quite like the coast of Maine.
Come to Bar Harbor and you can pick from a plethora of trails to go hiking on in Acadia National Park. You can visit the famous Sand Beach and walk along the ocean path to Thunder Hole. You may find some shells or sea glass on the shore and experience the sights and sounds of the water rushing into the rocky cavern, thundering and spraying a salty mist into the air. You can walk on the giant cliffs where the waves will tumble from below and flow in and out from the crevices between the rocks. Drive around the Park Loop Road and up to the top of Cadillac Mountain for some breathtaking views of Frenchman's Bay, the Porcupine Islands, Eagle Lake and the Mount Desert Narrows just to name a few.
In town, you can walk the beautiful Shore Path that starts near the Town Pier and along the coast. This path is especially nice if you are an early riser and want to greet the morning sun in all of its spectacular splendor. At the Town Pier in the early morning, you may also get to see some of the locals getting ready for a day of lobstering.
Bar Harbor has many little shops to visit as well as spas, restaurants, and theaters. If you like quaint little bookshops, you can check out Sherman's Book Store. Cool as a Moose is a fun gift shop. You can pick something up for your favorite four-legged friend at Bark Harbor, or grab something for yourself at Jack's Jewelry, where they are known for beautiful tourmaline. If the weather is a little damp, see what's playing at Reel Pizza near the Village Green. When it comes to your next meal, you might want to try Cafe This Way for breakfast or the Side Street Cafe for lunch or dinner. There are too many marvelous shops and restaurants to mention here, but there is something for everyone and you will be able to find something that will suit your taste buds and your budget in Bar Harbor.
This is just a small sampling of what you can see and do in Bar Harbor, Maine in the fall. To find out more, just plan your next vacation here and see for yourself the wonders of Bar Harbor, Acadia National Park and the coast of Maine.