Fall Is A Great Time To Visit Acadia National Park
September 18, 2017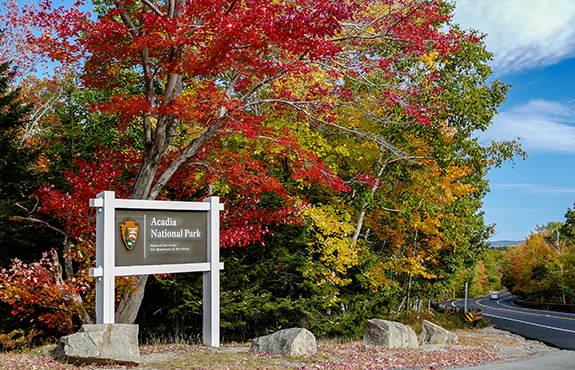 If you're planning a fall getaway, Acadia National Park on Mount Desert Island is the place for you. In fact, while you might think it's an expensive trip, there are things you can do, places to see, and comfortable accommodations that are easy on your budget!
With over 100 miles of hiking trails and mountain paths, Acadia National Park is a great place to explore. If you're looking for a family friendly hike, there are several you can do. If you're up for a challenge, there are several hikes that are considered strenuous and difficult. You can even drive up Cadillac Mountain and enjoy it's summit without making the steep hike. There are miles of car-free carriage roads that meander through forests, and around lakes and streams. You can walk, bike or enjoy a horse-drawn carriage in nature without the hussle and bussle of automobiles. There is a minimal charge for entrance to the park, but many of the programs offered by the Park Rangers are free, which includes walks with talks and programs for children to learn about wildlife. Information is available through the park service regarding dusk walks and hawk watches throughout September. The park has family programming in various locations, a birding for beginners program and several others you can attend at no cost.
Aside from the National Park there are other things to do on Mount Desert Island, like enjoying a museum, playing miniature golf or just taking in the splendor of the color as the fall leaves begin to change in the crisp air. You will enjoy the additional explosion of color if you arise early for the sunrise and look for the sunset in the evening. However with all of the events and programs, having free time to just sit and relax can be very refreshing. You can also go enjoy some time at one of the fairs in the area, like the well known Blue Hill Fair in Blue Hill on Labor Day weekend or the Common Ground Fair in Unity later on in September. Who doesn't love a good county fair?
If fall in Acadia National Park in Maine sounds appealing to you, we invite you to stay with us at Acadia Sunrise Motel in Trenton, Maine. We are a privately owned and operated family business with clean rooms, laundry facilities and a scenic view from our outdoor boardwalk and patio. We are located just off Mount Desert Island, not too far from Acadia National Park's entrance. This makes it easy for you to hike or tour Acadia National Park by day, take in a good meal in Bar Harbor in the evening and come back to the comfort of Acadia Sunrise Motel to sit around the fire pit, make new friends and enjoy a good night's sleep. We'd love the opportunity to welcome you to our area; please contact us for more information or to make a reservation.