Top 10 Things To Do While Visiting Bar Harbor
July 31, 2017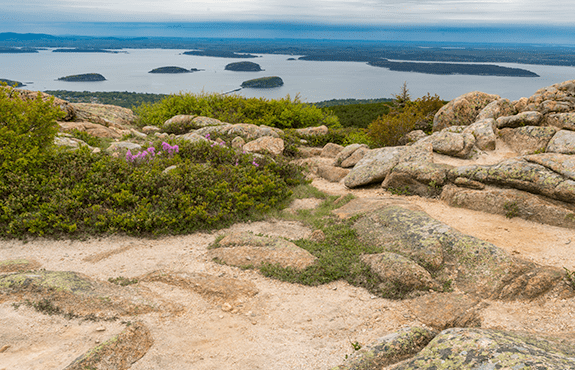 We may be a bit biased here at Acadia Sunrise Motel, but the truth of the matter is that we truly do believe that Bar Harbor, ME is one of the most beautiful places to visit, enjoy, and explore on the East Coast. To help sway you to our way of thinking, we have put together a list for you of the great experiences and things to do in and around Bar Harbor. Once you are done reading this list, we hope you won't hesitate to make reservations with us at Acadia Sunrise Motel, hop in your car, and explore all that Bar Harbor has to offer!
Top 10 Things To Do While Visiting Bar Harbor:
Acadia National Park - Number one on the list of course has to be visiting Acadia National Park. The best part about Acadia is that anyone can enjoy its beauty; whether you are on foot, in a kayak, in a canoe, on your bike, in a car, or on a bus, you can take in all the splendor Acadia has to offer.

Bar Harbor Whale Watch Co. - If you would like to get a better look at the Gulf of Maine, you can with the help of the Bar Harbor Whale Watch Company, by scheduling a tour you and your family will be able to get a close look at some of the creatures (whales, puffins, seals) and things (lighthouses) that make Bar Harbor special.

Acadia Air Tours - After seeing Bar Harbor by sea, see it by air. Get a breathtaking bird's eye view of Bar Harbor and Acadia national park by scheduling a tour through Acadia Air Tours!

Diver Ed's Dive-In Theater - Whether you are traveling with kids or not, anyone can enjoy the show that's presented on Diver Ed's boat. This fun and educational experience will allow you to see and touch what is on the bottom of the ocean without having to go swimming yourself! This is a great adventure for all ages.

Walk the Shore Path - The path begins at the town pier and continues along the eastern shore of Bar Harbor for a little more than half of a mile. This easy walk provides beautiful views of the ocean and beautiful Bar Harbor summer homes.

Pirate's Cove Adventure Golf - If you are looking for something to do in the evening after a big day exploring the park, relax and play a round of mini-golf at Pirate's Cove.

Reel Pizza Cinerama - This is a great place to visit with your family to enjoy a movie and have delicious pizza at the same time. Visiting Real Pizza Cinerama is an experience that can't be missed!

Eating lobster at a lobster pound - While eating lobster at a restaurant is delicious, having the true Maine experience of eating it at a lobster pound is a must do before leaving Bar Harbor.

Shop! - The best part of vacation is being able to shop and browse the local shops and pick up local treasures. Downtown Bar Harbor is home to many quaint and unique Maine shops.

Eat! - Next to shopping, being able to eat at new and local restaurants is the best part of going on vacation. From breakfast to diner, from lobster to steak, Bar Harbor restaurants have something to offer any eater.
The above list is a great way to get started exploring Bar Harbor, but there are many many other opportunities and experiences to enjoy as well in Bar Harbor. Don't wait another day, start planning your trip now, and when planning don't forget to make sure that you check us out Acadia Sunrise Motel. Conveniently located just off the head of the Island, our rooms and our rates cannot be beaten, and we are in the perfect location to easily access all the adventures that Bar Harbor has waiting for you!