Upcoming County Fairs In Maine
August 31, 2017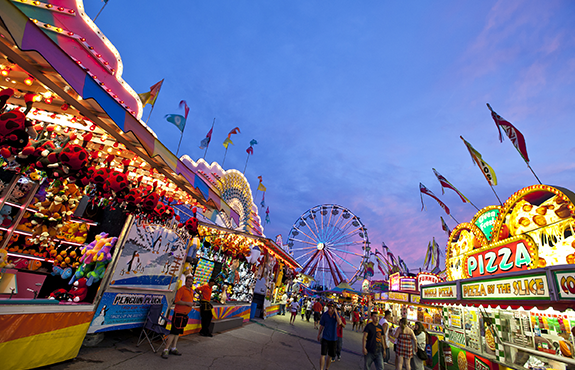 County fairs are so much fun in Maine. I like to take my family and meet up with some friends to share the fun together. There is so much to do and see, it might even take us 2-3 days to take it all in. We always enjoy the animals, rides, food, and music. All we have to do is park our car, pay at the gate and let the fun begin. There is something for everyone, young and old alike and in Downeast Maine, we are lucky to have the Blue Hill Fair on August 31-September 4 and the Common Ground Fair, September 22-24.
The Blue Hill Fair starts the Thursday before Labor Day each year, in the small coastal town of Blue Hill, Maine. This fair consists of many different types of entertainment, music, crafts, animal exhibits, and much more. We usually start off by touring all of the barns to see the livestock, we have even been lucky enough to see a calf being born a few year's ago. I have an Uncle that really enjoys the tractor, horse, steer and oxen pulls, and my Aunt and I have been known to enter the women's skillet toss in the past. I may decide to sign up for the beef cook off this year, since I've been told my chocolate chili is amazing. We all like to watch the sheep, goat and stunt dog shows and we also like watching the blueberry pie eating contest, but none of us has been brave enough to enter it yet, maybe someday. This year's entertainment is going to be amazing, you can go see Bob Marley the comedian, "Ramp It Up! Energy Show" by Mad Science, The Red Trouser Show (comedy with acrobatics), Terry Lee Goffee's tribute to the late Johnny Cash, the Frogtown Mountain Puppeteers and much more! Like I said, there is something for everyone. If you do end up going to the Blue Hill Fair, you won't want to miss the 4-H Wild Blueberry Pancake Breakfast on Saturday morning, the Mammoth Aerial Fireworks Display on Sunday night and the Wristband Special for enjoying the rides on Monday. It's a great way to end the summer with your family.
The Common Ground Fair is a bit different, but equally as fun. This fair celebrates the spirit of rural and agricultural traditions on the third weekend after Labor Day every year in Unity, Maine. I can never decide what to do first. This is a great place for kids to learn about energy, participate in garden parades, join sing-a-longs and take a horse drawn carriage rides. I really like the cooking demonstrations and this year there is goat cheese making, canning basics, how to eat an acorn and a much more. My husband will enjoy the farming and gardening, while the kids might like the farm and homesteading activities. Together we will enjoy this year's music with John Tercyak, Martin Swinger, Bound To Have Fun Little String Band, Loose Cannon Jug Band, Paddy Mills, a Fiddlers Showcase. If that's not enough there will be information about beekeeping, bike power, composting, recycling, fibers, forestry, health, sustainability and a lot more. The food at this fair is spectacular too, as it promotes local organic agriculture that is based in Maine, and as always delicious!
As you can see by just these two fairs alone, that there is much fun to be had at fairs in Maine. Come spend a weekend at the fair, and after a fun filled day, you will need a comfortable place to rest your head at night. If you are looking for a great room at a great price, look no further than our privately owned and operated Acadia Sunrise Motel in Trenton, Maine. We have updated rooms, well-kept grounds, laundry facilities, outdoor fire pit area and boardwalk with a patio that has an amazing view of Acadia. We are privately owned and operated and are known for comfortable "family" atmosphere for rest and relaxation. Give us a call today to find out our availability, at Acadia Sunrise Motel. See you at the fair!