Where Should You Eat While Visiting Acadia?
July 12, 2017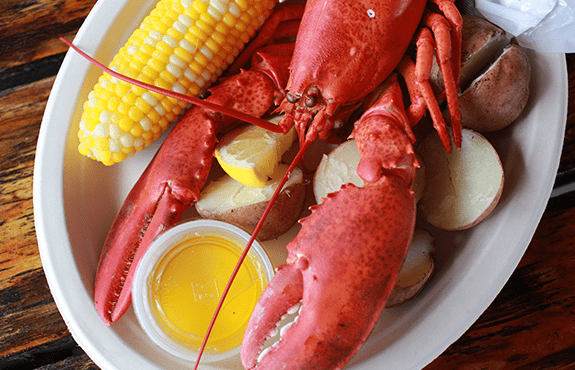 One of the most stressful decisions that you will have to make while visiting Acadia is where to go to find the most succulent seafood fare. It is a stress that can be quickly eliminated by asking any one of the 'locals' – or by reading this blog! Our top 5 places to find the freshest, best tasting local seafood dishes (in no particular order) are (drum roll please!)…
Trenton Bridge Lobster Pound – This amazing little gem located at the head of the island in Trenton offers fresh lobster at its best. You can sit inside or outside on picnic tables and watch the roadside cauldrons boil…no fancy fare here. You pick your lobster and they do the rest…come in just as you are and be ready to use plenty of napkins! Choices include lobster, steamers, mussels, corn, clam chowder, and fresh blueberry pie – all tastes of Maine!

The Tan Turtle Tavern – Located near the Kimball Terrace Inn, this is a wonderful place to take the whole family, offering the perfect combination of menu choices, go at the right time and you can even enjoy some live music.

Union River Lobster Pot – This casual eatery is located on the Union River in Ellsworth and is an absolute favorite for the locals. A bit less rustic than the lobster pounds, they specialize in lobster, steamers, and steak. All are sure to please the palate.

The Colonel's Restaurant & Bakery – If it is donuts and pastry you are seeking, look no further than The Colonel's Restaurant & Bakery. This gem offers an assorment of donuts, breakes, cookies, cakes and other pastries daily.

Smoky's BBQ and Lobster Pound – If it's bbq you are after, right up the road from us is Smoky's BBQ and Lobster Pound, you can't go wrong with anything on their menu.
There is a long list of restaurants you should try while staying in Acadia, we suggest you try out Side Street Café in Bar Harbor for amazing lunches, Pat's Pizza in Bar Harbor and Ellsworth for pizza and Italian food, and Paddy Murphy's Irish Pub for the best corned beef around and more. And, no trip to Acadia would be complete without a trip to Jordan Pond House for some of the best popovers you will ever taste!
While you are here relaxing, hiking, or checking out the local cuisine, make sure that you end each day sitting by the pool or relaxing in the comfortable rooms here at Acadia Sunrise Motel. We are centrally located and affordably priced! Check us out online or give us a call to book your room and come see all that Acadia has to offer.